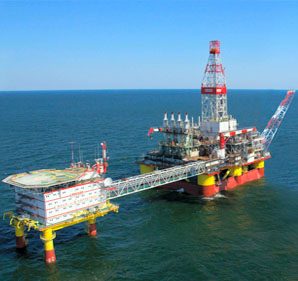 Mission of the company: Renewal and strengthening of Russian positions in the area of construction of complicated marine facilities for offshore field development.
Construction capabilities:
Mobile Drilling rigs (Jack-up drilling rigs, semi-submersible floating drilling rigs, barges)
Production platforms
Construction vessels (floating cranes, pipe handlers, barges)
Special vessels
Transport vessels
Marine infrastructure steel structures
The company has a big experience in construction of drilling platforms of different types for offshore oil and gas fields of the Caspian sea: ice-resistant fixed platforms for Korchagin oil field and Filanovsky oil field, jack-up floating drilling rigs of Super 116E Project. Besides that the company has an experience of fabrication of complicated steel structures for projects "Sakhalin-2" and Vankor field.
"ROSSHELF" JSC collaborates with the biggest oil and gas production, offshore and shipping companies in the Caspian region: "LUKOIL" JSC, ERSAI, Dragon Oil Ltd., "Moscow River Shipping Company" OJSC and others.